Troubleshooting Calendaring: Kompatibilitätsmodus
Kompatibilitätsmodus, Client-Erkennung und Domänenzuordnung sind Funktionen, die Interoperabilität zwischen Benutzern von Lotus Notes-Kalendern und Benutzern anderer Kalendersysteme erheblich verbessern kann.
Der Kompatibilitätsmodus verhindert den Datenverlust bei wiederkehrenden Besprechungen für Benutzer anderer E-Mail-Anwendungen als Lotus Notes, die Einladungen mit Notes-Benutzern austauschen.
Die Client-Erkennung und die Domänenzuordnung ermöglichen dem Domino-Administrator, über die Mailrichtlinie E-Mail-Anwendungen den Domänen in der Organisation zuzuordnen und die Interoperabilität der Kalenderfunktionen der einzelnen Anwendungen anzugeben.
Aufgrund der Unterschiede in der Architektur für wiederkehrende Besprechungen können einige der komplexen Aktionen für wiederkehrende Besprechungen in Notes von Outlook/Exchange und anderen E-Mail-Anwendungen nicht interpretiert werden. Um derartige Situation zu vermeiden, kann Notes die zulässigen Aktionen für wiederkehrende Besprechungen mithilfe des Kompatibilitätsmodus, der Client-Erkennung und der Domänenzuordnung handhaben.
——————————————–
Neu Planen, Aktualisieren oder Absagen von mehr als einer Besprechungsinstanz gleichzeitig
Outlook/Exchange unterstützt zwar die Neuplanung wiederkehrender Besprechungen im Allgemeinen, aber nicht die Neuplanung mehrerer Instanzen.
siehe auch Blogbeitrag : supported recurrence pattern by Outlook
Im Kompatibilitätsmodus müssen die Benutzer die Option "Nur dieser Eintrag" im Dialogfeld "Wiederkehrenden Eintrag ändern" auswählen und die Option Einige der eingeladenen Personen nutzen andere Mailprogramme aktiviert lassen.
Rescheduling, updating, or canceling more than one instance of a meeting at a time  
While Outlook/Exchange supports repeating meeting rescheduling generally, they do not support rescheduling multiple instances, which is how Notes sends out a reschedule of all instances.
Blog entry : supported recurrence pattern by Outlook
When in compatibility mode, users must select the Just this instance option in the Change repeating entry dialog box, leaving the Some invitees use other mail programs enabled.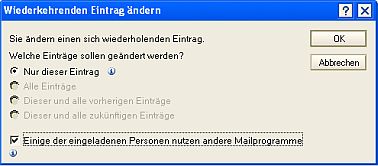 ——————————————–
Benutzerdefinierte wiederkehrende Besprechungen
Benutzerdefinierte wiederkehrende Besprechungen sind im Kompatibilitätsmodus nicht zulässig.
Custom repeating meetings
Custom repeating meetings are not allowed

——————————————–
Regeln für Wochenenden
Nur die Standard-Wochenendregel Nicht verschieben wird für wiederkehrende Besprechungen unterstützt.
Weekend rules
Only the default Don't Move weekend rule is allowed on repeating meetings.

——————————————–
Einstellung Policy:
Mail Setting (ab 8.5.1):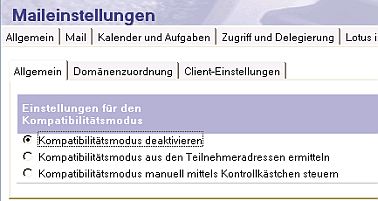 Einstellung notes.in:
DisallowRelatedIcalendarMime=number (8.5)
0 – Complex MIME conversion occurs as usual. No richness is lost, but workflow problems may result with Exchange 2003.
1 – Complex MIME conversion occurs as usual, unless a meeting has compatibility mode specified, in which case it is simplified for Exchange 2003 compatibility. Compatibility mode is represented by the text document property of $ICAL_COMPATIBILITY_MODE and a "1" value means it is on. If a third party creates the documents, it can set this property to control the generated MIME.
2 – MIME conversion is simplified. Richness, but no data, is lost for all users outside your Notes domain that require MIME conversion). No problems occur with Exchange 2003.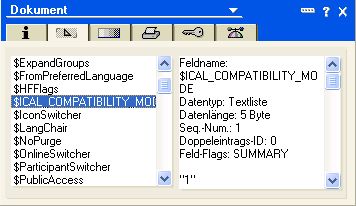 $CSCompatibilityMode = number (8.5)
Specifies the behavior of the "Some invitees use other mail programs" option in repeating meetings. Use this notes.ini variable to show the option, change the default value, or lock the option on for all meetings.
0 – Option is hidden and off for all meetings created on that client.
1 – Option is hidden and defaults to on for all meetings created on that client. The chair cannot see the option nor make any changes to it.
2 – Option is displayed and defaults to off for all meetings created on that client. The meeting chair can use the option to set whether it is on or off for each meeting created. The chair can also update the selection later to turn the option on or off at that time.
3 – Option is displayed but is locked on for all meetings.
Kundenservice:
vollständige Beschreibung incl. Best Practice, Beispielen Internet Calendaring and Scheduling Core Object Specification
Quellen:
IBM Hilfe
Support Microsoft
IBM Wiki