Tools for my handbag – Part1: Notes Client and Domino Server Error Code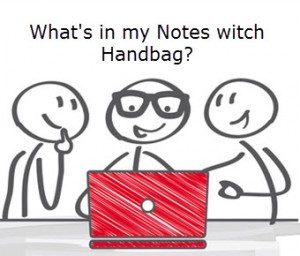 This tool allows you to search and copy error/program messages that are generated by Notes Client and Domino Server. It allows you to get the correct message syntax in order to perform a more
Der Notes Client und der Domino Server haben einen umfassenden Pool an versions- und sprachabhängigen Fehlermeldungen. Troubleshooting mit deutschen Fehlermeldungen endet meist auch nur in deutschen Foren. Besser und definitiv effektiver ist es, die englische Fehlermeldung zur Lösungssuche zu nutzen. Bei der Übersetzung der Fehlermeldungen vom Englischen ins Deutsche hat IBM wahrscheinlich eine TOP SECRET Translater Version aus Chichicastenango genutzt und alle deutschen Administratoren vor ein indiges Mysterium gestellt.
Das dieses mysteriöse Tool leider nicht public zur Verfügung steht gibt es hier zwei Alternativen:
Tool1: "Domino Error Codes" (John Buoro)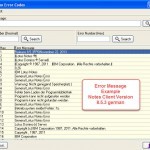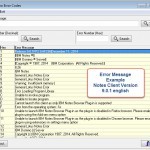 Das Tool "Domino Error Codes" (John Buoro) eignet sich dabei für Fehlermeldungen die vom Notes Client oder vom Domino Server erzeugt werden.
This Tools allows you to search and copy error/program messages that are  generated by Notes Client and Domino Server. It allows you to get the correct message syntax in order to perform a more
precise search for support.
Error Code: Notes Client, Domino Server
Lizenz: Freeware
Installation: Copy the file DominoErrorCodes.exe into your program directory. This directory contains must contain the NNOTES.DLL file
Tested: Version 8.5 – 9.0.1
Bemerkung: Der Server bzw. Client muss dabei nicht gestartet werden. Bitte auch keinen produktiven Server zum Auslesen des Error Codes nutzen.
Download Domino Error Code
Example:

---
Tool2: "ErrCode Database" (Bill Buchan)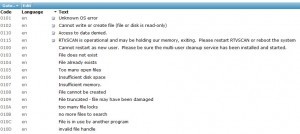 Das Tool bzw. die Datenbank "ErrCode Database" (Bill Buchan) funktioniert für Client Fehlermeldungen und bietet als Notes Datenbank das bessere Repository und die bessere Schnittstelle zum Transfer in andere Dokumentationssysteme.
Error Code: Notes Client
Lizenz: http://www.billbuchan.com
Installation: copy the database into your local data directory, sign the database, open the database and put the button  "Get Error Codes"
Tested: Version 8.5 – 9.0.1
[ddownload id="3733″]
Example: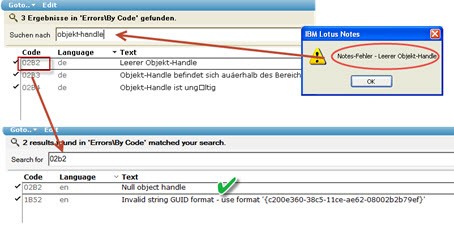 Quellen:
https://www.billbuchan.com
www.VirtualObjectives.com.au