Schluss mit dem Mäusezirkus – ein 10 Punkte Noteshexen Tool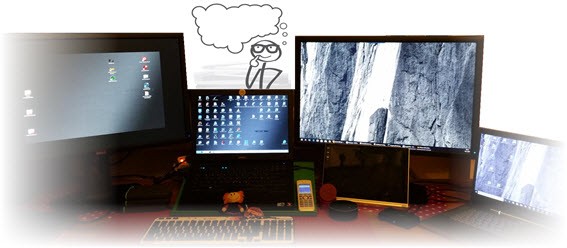 Description:
Mouse without Borders is a product that makes you the captain of your computer fleet by allowing you to control up to four computers from a single mouse and keyboard.
Microsoft's Mouse without Borders is a free utility tool that allows the users to share their mouse and keyboard for up to 4 computers.
This application uses a wireless network to seamlessly share mouse and keyboard with other PCs. This means that with Mouse without Borders you can copy text or drag and drop files across computers.
Install-Level: easy
Supported Operating System:
Windows 10 , Windows 7, Windows 8, Windows 8.1, Windows Server 2003, Windows Server 2008, Windows Server 2012, Windows Vista, Windows XP Service Pack 3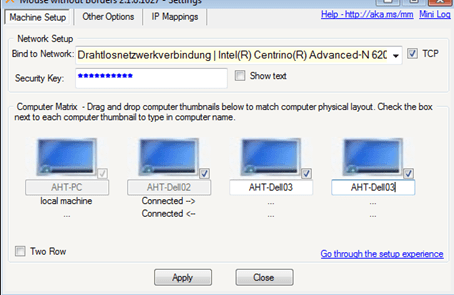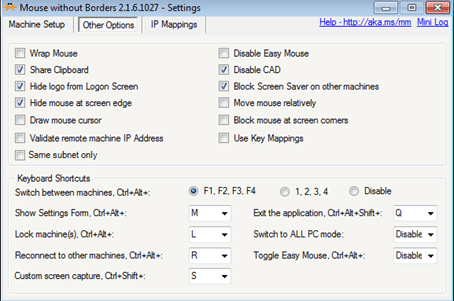 Geniales Tool – Eine Maus und eine Tastatur für eine Menge Monitore, statt Mäusezirkus oder USB Switch Lösung.
Das kostenlose Microsoft-Tool "Mouse without Borders" aus der MS Garage verbindet über das WLAN Netzwerk bis zu 4 Maschinen miteinander.
Bonus : Zwischen den Windows-Rechnern können nach Installation des kleinen Tools auch Dateien per drag and drop verschoben werden und auch die Zwischenablage funktioniert problemlos.
Die Installation ist sehr einfach. Die Rechner müssen sich nur im selben Netzwerk befinden.
Supported Operating System:
Windows 10 , Windows 7, Windows 8, Windows 8.1, Windows Server 2003, Windows Server 2008, Windows Server 2012, Windows Vista, Windows XP Service Pack 3