IBM Notes – My  Information Dashboard Part: 01
oder wie ich den Echo Mädels Notes beibrachte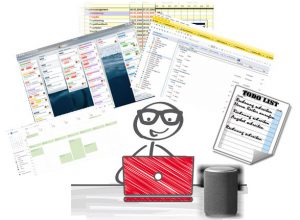 We spend day in and day out working with a wealth of data – business Calendar, privat calendar, to do list, project lists, selfmanagement tools and more.
Integrate the majority of your Task into your Notes Client Calendar.
What's Most Important To Me?
Data Availability

– nootebook online, notebook offline, mobile Device
Example 01: Use Alexa for your To Do List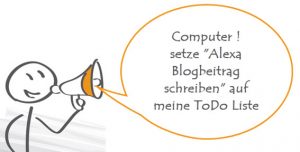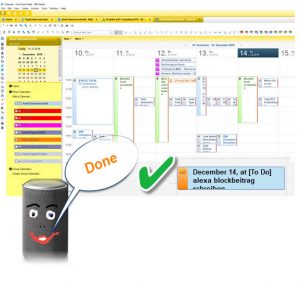 Description: Use special Googel Calendar and "If This Then That" Service
Es gibt verschieden Wege, ich nutze einen Googel Kalender und "If This Then That" Dienste.
(Die auf Amazon angebotenen Skills sind oft unzuverlässig, meist schlecht programmiert, allerdings einfach zu integrieren.)

---
Step 01: Create a new googel calendar
in meinen Googel Konto habe ich einen speziellen Kalender "ToDoList" erstellt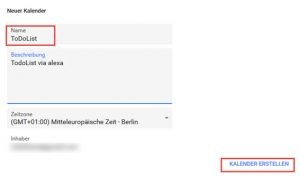 . calendar private address in ical format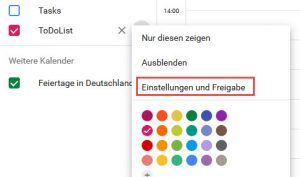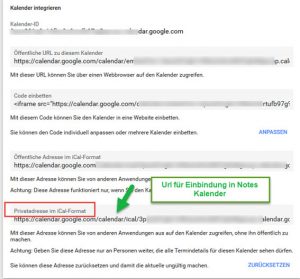 ---
Step 03: IFTTT : Sync Alexa with Google calendar "ToDoList"
IFTTT ermöglicht es Benutzern, bedingte Anweisungen nach dem Prinzip "If this then that" zu erstellen, Unser Trigger ist die To Do List von Alexa. Für mein Beispiel gibt es bereits eine fertige Anweisung "Automatically sync your Amazon Alexa To Do List with your Google Calendar" For each new item you add to Alexa's To Do List this Applet will automatically create an event in Google Calendar at the same time.
Create Account: https://ifttt.com / Ein Konto beim Diensteanbieter anlegen https://ifttt.com

Provide your Amazon and googel account credentials

Configuration "Automatically sync your Amazon Alexa To Do List with your Google Calendar" Service –> Settings

choose the calender "ToDoList"

save and check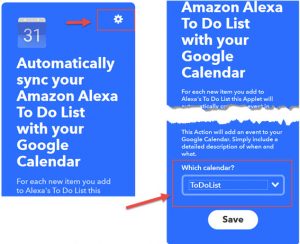 ---
Step 03: Integrate google calendar "ToDoList" in your Notes Calendar (calendar private address in ical format)
Bemerkung: nicht das Googel Konto gesamt nutzen, da ich ja am Ende  ein übersichtliches Dashboard erzeugen will.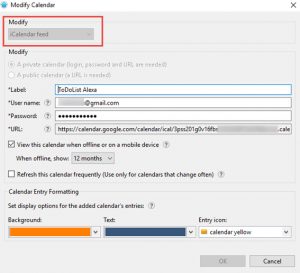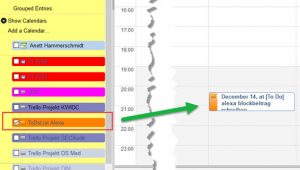 advantage/Vorteile:
Data Availability – nootebook online, notebook offline, mobile Device
Visualisierung auch auf dem mobile Device mögliche ( Einstellung Modify Calendar -> View this calendar ….Offline
Disadvantages/Nachteile:
Can't edit To Do documents in IBM Notes
ical Feed -> Bearbeitung des To Do Liste nur im Ursprungskalender ( auch löschen)
Ich benutze um meine To Do List zu bearbeiten, aus diesem Grund ein kostenpflichtiges Synctool.
next post: Part 02 integrate Trello in your Calendar


---
Mein Kommentar:  Datenschutz – für die Kritiker:
Gesunder Menschenverstand gefragt!
Bevor ich mein Phone, Notebook, Zettel (Zettel wäre dann später auch wieder weg) gesucht, gefunden und erreicht habe …ist der Gedanke oft schon wieder weg.
Der Gedanke, nicht meine Banken PIN oder andere sensible Daten, die dann durchs Netz geistern!
Ein Spruch zum Echo, kein starten von Skills, keine nervige Alexa Rückfrage und schon ist mein Gedanke oder meine Idee in meinem persönlichen Dashboard. ( Sternzeit -304043.8082508879)
O.K., natürlich besteht jetzt die Gefahr das meine Vergesslichkeit Amazon und co. nutzen und ein Noteshexen Daten Vergesslichkeitsprofil anlegen. Vielleicht erhalte ich auch zukünftig Angebote über Vitamin B12 und Ähnliches 😉
Ich nutze die Sprachassistenten von Amazon und Googel schon mehrere Jahre und suche immer nach neuen sinnvollen Einsatzgebieten. Ich bin Mitglied einer Gruppe von Alexa-Enthusiasten (Skill Entwickler) ….und wir haben gute Ideen … aber mehr dazu auf meinen anderen Blog.
Es gibt ICS Berufskollegen, die mit mir aus Sicherheits und Datenschutz Gründen ausschließlich per SMS oder Mail kommunizieren! Warum sie ihre Mail dann nicht verschlüsseln ist mir im Gegenzug  nicht klar 😉
IM im Unternehmen, jahrelang ein No Go und mit einer Vielzahl Argumenten torpediert.
Während die IT, der Personalrat und der Datenschutz immer wieder ein Argument gegen den Einsatz fanden, fanden die Mitarbeiter Whatsapp, FB Messanger, Signal und co.
Ich wünsche mir Software die standardisierten Schnittstellen anbietet, mit Verschlüsselung, mit Mobilität … Siehe auch IBM Domino Jam 2017